Last Updated on May 30, 2023 by Rose Morah
If are planning to buy a new Tesla, this article gives you a complete guide.
Additionally, it covers tips and important information that every buyer should know before going online to purchase a Tesla.
Most people think that buying a Tesla is as simple as going online and making an order through Tesla's official website. However, this is not the case. 
There are steps and tips that you will need up your sleeve before and after placing an order online.
This article will cover the following:
Process of ordering your Tesla online.
Things to expect after ordering.
How to get your Tesla sooner – before the estimated date of delivery.
Getting a VIN.
What next after getting a VIN?
What happens on the delivery day.
What next after receiving your new Tesla?
What happens if you have quality problems with your new Tesla?
Related: Best Tesla Financing Options.
Process of ordering your Tesla online
The following are steps for buying a new Tesla online:
Step 1
Go to Tesla.com 
Step 2 
On the top of the page, click on the Tesla model that you would like to order and click order.
Step 3 
Then switch from potential savings to purchase price. So you can see how much it is going for.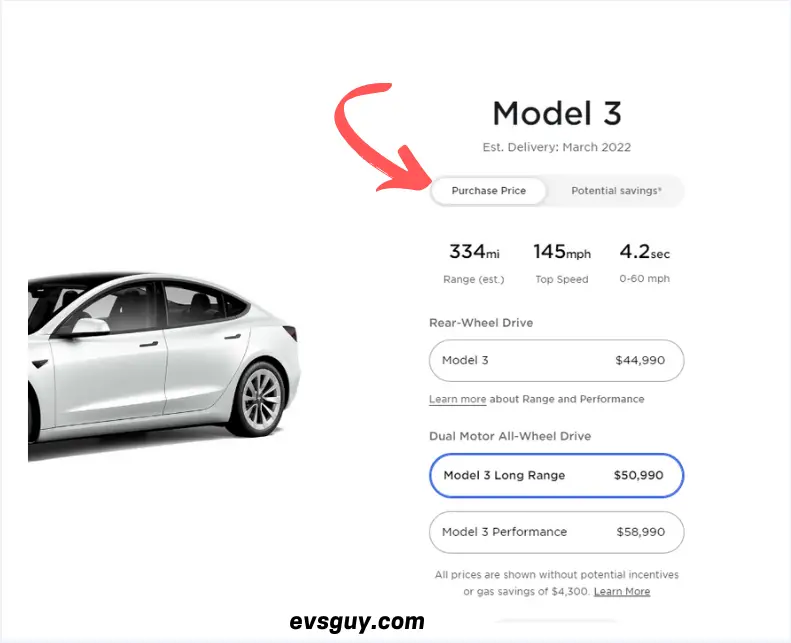 Step 4 
Choose the version of the model you want to purchase. Click on learn more (See the image below) for side-by-side comparisons, such as:
> Acceleration 0-60mph
> Top speed
> Range
> Drive train
> Power efficiency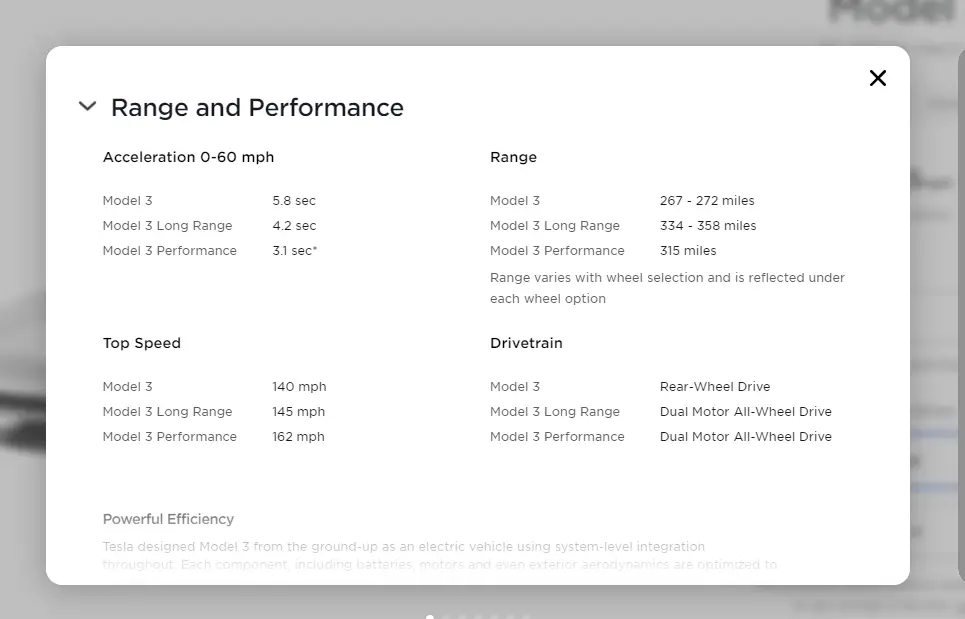 Step 5 
Choose the color of your Tesla. You have 5 paint options to choose from with one being free while the rest will cost you extra money.
Step 6 
Choose your preferred wheels, depending on your needs.
Step 7
Choose the color of the interior. Black is free but for black and white, you will have to pay extra.
Step 8
The last option is full self-driving. Then get your estimated delivery date.
NOTE: If you change anything, it will definitely affect the estimated delivery date.
Step 9
Click on payments. 
Tesla gives you three payment options, depending on your state.
> Pay cash
> Lease
> Loan
N/B: If you choose either lease or loan you can customize your payments, by just clicking on the customize payments.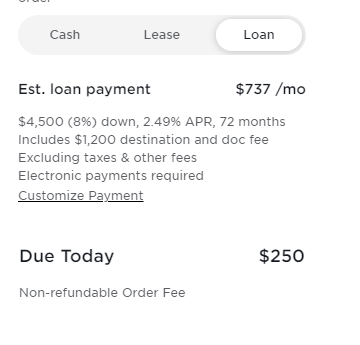 See also:
Tesla Delivery Checklist: Model 3 & Y.
How To Transfer Tesla Ownership (Common Transfer Issues).
Best Gifts Ideas For Tesla Model 3 & Y Owners.
Step 10
The final step in this process is clicking to order. You will have two options; to either create an account or sign in.
NOTE: Tesla will be sending you an email to complete your order.
You might also like Tesla Battery Replacement Cost (How Much It Will It Cost You).
The following information will need to be filled in for a complete order:
You can choose home delivery if it is available for you, or choose the closest service center or showroom.
Here you're expected to fill out some personal information.
If you are trading in your current vehicle for Tesla, you will have to fill in the information about the vehicle. But if you are not, just ignore the option.
Choose between cash or financing.
When it comes to financing you have two options; loan or lease, depending on your state (location).
You can click here for more information on the Tesla lease when purchasing a new website.
See also: Best EVs That Are Cheaper Than Tesla (Under $40,000).
When it comes to loans, you have two options:
Tesla financing partners.
This option is only available for people in certain states. It may also not be available for you if you set your delivery option to certain states.
Third-party loan.
If you plan on taking a loan, be sure to check your delivery estimate. If it is months away, like one month out, select the payment method as cash, then proceed to order. So, once your delivery is almost near just phone Tesla and ask them to switch your payment method to a loan.  This is to avoid loan expiration.
Or, if you choose the loan option and have not applied for any, then your delivery may take longer. Tesla will consider that account to be incomplete and prioritizes delivering to others who have complete accounts.
See also: Should You Buy Or Lease A Tesla?
You may also like the Pros and Cons Of Owning A Tesla.
Things to expect after ordering
A constantly changing Estimated Date of Delivery.
The Estimated Delivery Date will constantly be changing. It updates(refreshes) twice daily, at around 9 AM EST and 9 PM EST. 
Note: Sometimes it will not change.
Senior Adviser 
You will be assigned a senior adviser about a week after placing your order and they should contact you via text message.
The Senior Adviser that you are assigned to is normally at the pick-up or delivery location of your new Tesla.
How to get your Tesla sooner, before the estimated date of delivery
Check the existing inventory
You can start by going through the existing inventory. I would actually recommend doing it before placing your order.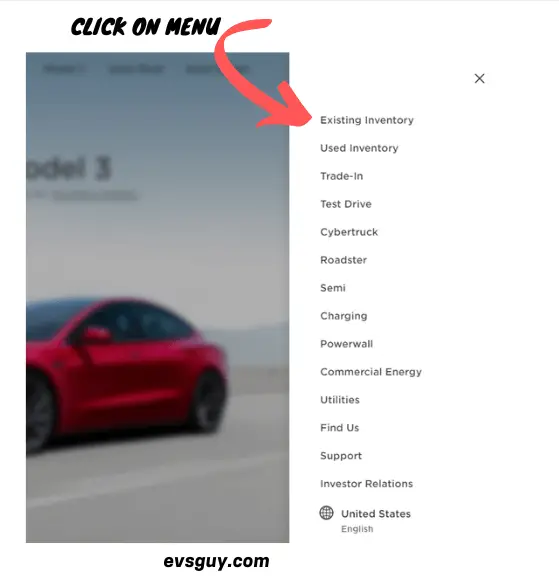 See the different types of electric vehicles (EVs) and which one you should buy.
Here you will be checking whether the vehicle you are looking to buy (with your preferred specs) already exists in the inventory. Be sure to place the order immediately after you spot one before someone else beats you to it. However, you should be prepared to pay for the delivery fees.
But if you had already made an order, you can contact your Senior Advisor to inform them about your order and request them to transfer the fee from the initial order. This way you won't have to pay the $250 order fee twice.
This option is available for those who chose the cash payment option. Otherwise, if you chose the financing option when ordering your Tesla, this tip might not be helpful to you.
Additionally, if you already have an order and a great Senior Adviser, he/she will contact you if there's an existing inventory at your location that matches your specs.
Talk to your Senior Advisor
This tip mostly applies to people who are just looking to own a Tesla and are not so concerned about the specs. 
So, in this case, you can talk to your senior advisor and inform him that you wouldn't mind taking an existing inventory. This will help get your Tesla faster before your delivery date.
The Existing Inventory is usually cars from;

> Failed delivery.
> Payment issues.
> Buyer rejected the car due to quality issues. 

However, in case of quality issues, Tesla takes note and improves on the quality based on the reason(s) for rejection. This can be paint issues e.t.c
You might also like: 4 Ways To Reboot Your Tesla To Help Fix Issues (Soft & Hard Reset).
Getting a VIN
It is important to know that Tesla will not send you information about your Vehicle Identification Number (VIN) being available.
But if you get a good senior advisor he/she may send you that information. But they rarely do.
How do you know that you have gotten a VIN?
When signing in to your Tesla account.
When you get a VIN, you will see a pop-up when login into your tesla account, depending on the type of Tesla you ordered.
See the image below (After my model 3 order).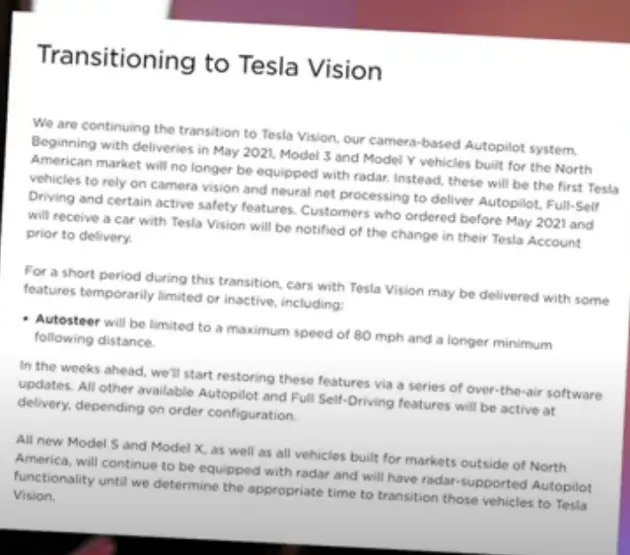 Once you see that pop-up, you can contact your Senior Advisor to confirm if the VIN is available before going to the next step. The pop-up will also indicate if there are some changes to your original specs.
Additionally, once you get the VIN, you will notice that your estimated delivery date will not frequently change. It will almost be the exact day your Tesla will be delivered (very accurate).
See also:
Tips For Buying A Used Tesla (What To Look For).
Used Tesla Delivery Checklist (Inspecting A Used Tesla).
How To Transfer Tesla Reservation in 2023.
What next after getting a VIN?
Take care of your insurance if you haven't. If you prefer Tesla insurance, here's more information about that.
Expect to be contacted for information about the delivery date and time. However, this does not happen immediately after getting a VIN. It may take days or weeks.
Once you are contacted, you will receive an email with a link to select a pick-up day. See the image below.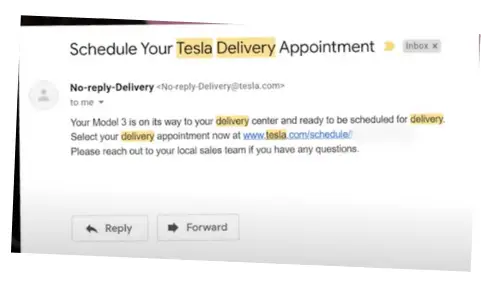 note: If you choose home delivery, the delivery day is always not accurate. It may also take you more time to get your new Tesla.
After being contacted, go ahead and complete your financing. If you had selected cash but planned on paying through financing, then this is the time to call your senior advisor and have them switch it to financing.
If you chose the Tesla financing option, you need to know that it mostly expires after 60 days. 

Hence, one other thing that you should be aware of is that you will not be sent information about your loan having expired, because no one will contact you but your account will still look the same. So, this is very important to take note of.
note
4. Complete your final payments and review your agreements, which will be available between 24 to 48 hours.
Once you complete all that, you will be texted more information about your delivery. For me, it was not home delivery, so they sent a text see the image below.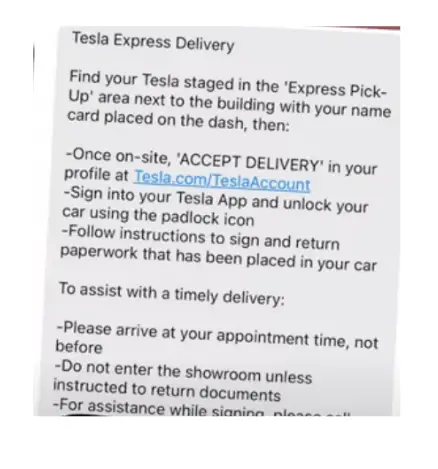 What happens on the delivery day?
License Plate
If you already have a license plate or live in a state or country that allows you to transfer your license plate onto your new car, then don't forget to carry it when going to pick up your new Tesla. 
But if you do not have one, you will be provided with a temporary license plate.
Trade-In
If you are trading a vehicle, don't forget to take the car.
Download the Tesla app
Before the delivery day, be sure that you have downloaded the Tesla app on your smartphone.
Carry your driver's license. 
Carry a printed insurance card.
If you chose the home delivery option;
Ensure that after delivery, it is marked as delivered by the delivery guy. This is to prevent your phone key from being disabled.
Make sure that you have been given all copies of all the paperwork for future communication.
What next after receiving your new Tesla?
Do a proper inspection before you drive away.
Don't be afraid to ask the Tesla representative any questions that you may have. These may include:
How to use Autopilot.
How to charge/ open the charge flap.
Demonstrate the correct technique for closing the frunk.
How to connect and pair Bluetooth.
Take you through the steering buttons.
How to do a full reset on your Tesla navigation screen.
See also: How Long Does a Tesla Battery Last? (Tesla Battery Degradation).
What happens if you have quality problems with your new Tesla?
After inspecting and finding that the new Tesla has some issues, you have two options;
To reject the Tesla and go back to the waiting line.
Accept the new Tesla but schedule a fixing appointment after delivery via Tesla Mobile Tech, free of charge.
However, this only happens if it is a problem from the factory-like if something is missing.
Additionally, you have to report other things such as scratches immediately before you drive off. Otherwise, it will be hard to prove that you did not scratch it yourself. 
QUICK TIP
Take a video of the Tesla before you drive off or immediately after a home delivery, ensuring it is the best quality so that in case you missed something during the inspection process you will have proof and thus, it will be fixed for free.
GOOD LUCK!