Last Updated on May 30, 2023 by Rose Morah
I remember before buying my Tesla, I did a ton of research on how much it would cost me in repairs. Frankly, I did not want to buy it if it was going to cost me a lot in maintenance. 
Long story short… I bought a Tesla, and in this article, I will give you a breakdown of my Tesla maintenance costs and that of other Tesla owners.
So, is Tesla maintenance expensive?
No, after three years of owning a Tesla, I must say that I have saved a lot in repair costs. Maintaining a Model 3 and Y has become a lot cheaper and very convenient compared to any gasoline vehicle.
How much does a Tesla maintenance cost?
Here's a breakdown of my Tesla Model 3 repair costs after 50,000 miles.
COST
No. of times
REPLACEMENTS                                         
Michelin PS4S tires (All 4)

$1300 per set

Once
12V battery (at around 33,000 miles)
Free (under warranty)
Once
Refill windshield washer fluid 
Around $5
WARRANTY REPAIRS
Cellular LTE data (stopped working)
FREE 
Once
Windshield wiper (not working properly)
FREE
Once
RECOMMENDED TESLA SERVICE CHECKUP (After 2years)
Cabin air filter replacement.
Brake caliper cleaning & Brake fluid replacement.
TOTAL  = $425

$35
$390
TOTAL MAINTENANCE AFTER 50,000 miles
Excluding the tires


= $430
Summary 
I replaced my tires at around 35,000 miles.
After every 6,250 miles, I got my tires rotated. It's free, I do it myself. 
I replaced the 12V battery at around 33,000 miles.
The Cabin air filter replacement was DIY.
So, what was my Tesla maintenance cost per mile? 
I spent $8.6 on my tesla maintenance for every 1000 miles. Of course, this is excluding the tire replacement based on my calculations after covering 50,000 miles. See the calculations below:
50,000 miles = $430
1000 miles    = ?
1000 x $430 = 430,000
430,000 ÷ 50,000 = $8.6
Now that I have surpassed 50,000 miles, this means that I no longer have the new vehicle warranty. 
Other Costs of owning a Tesla
1. Charging Cost
| | |
| --- | --- |
| CHARGING  | APPROXIMATE COST (based on my location) |
| Home Charging  | Around $900 – $1000 |
| Supercharging  | After 50,000 miles – $900 |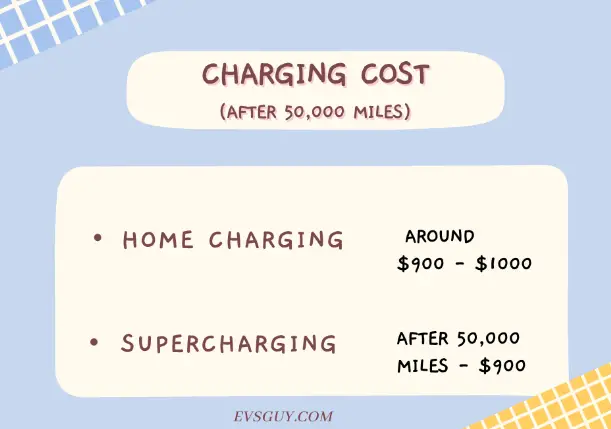 When it comes to charging;
I do most of my tesla charging from home when I'm asleep. This is when the cost of electricity is cheaper.
I also make use of the free chargers available in my location or during road trips.
I only charge at Supercharger stations during road trips.
I have also enjoyed free Supercharging miles.
You may also like:
Hidden Costs of Owning A Tesla (First-hand Experience).
Is Tesla Wall Connector Worth It? (Pros & Cons).
Tips For Selling A Used Tesla.
2. Tesla Accessories
I have spent about $1000 on tesla accessories. Accessories make your Tesla look good and more comfortable, mainly when camping in your Tesla.
So, to sum it up! Do Teslas require much maintenance?
No, Tesla does not require much maintenance compared to gasoline vehicles.
Generally, I would say, the cost of driving my model 3 has been way cheaper and very convenient than owning a gasoline vehicle.
Why? Because;
There's no changing oil.
No replacing the engine air filter.
No need to clean the injectors or change the spark plugs.
No need to worry about the ignition system, the fuel pump, or even the alternator.
I have never regretted purchasing my Tesla car. Even after 2 years, I still remember the first time I sat in my Tesla. I'm pretty sure my smile was ear to ear as I drove the whole way to my house. Going from 50mph to 70 in a split second felt amazingly unreal. This was and has been the best feeling ever, even after 2 years of owning a Tesla.
See also:
Is The Tesla Extended Warranty Worth It? (Read This Before You Purchase It).
Is Tesla Insurance Good? (Pros & Cons).
Do Teslas break down a lot?
From experience, this has been very rare.
Disclaimer
This information is purely based on my experience as a Tesla owner.
Other Driver's service and Maintenance feedback
This information is based on the feedback of Tesla drivers that was collected in a recent online survey. 
According to the survey, these Tesla drivers provided the following feedback on the service and maintenance of their cars over the period they have owned them: 
YEARS
SERVICE & MAINTENANCE
40% of Tesla owners
After 3 Years
> Air filter replacement.
> Tire rotation.
> Windshield washer fluid.
40% of Tesla owners
Almost 2 years
> No maintenance only added windshield washer fluid.
> Tire rotation.
20% of Tesla owners
2.5 years
LH and RH upper control arms were replaced.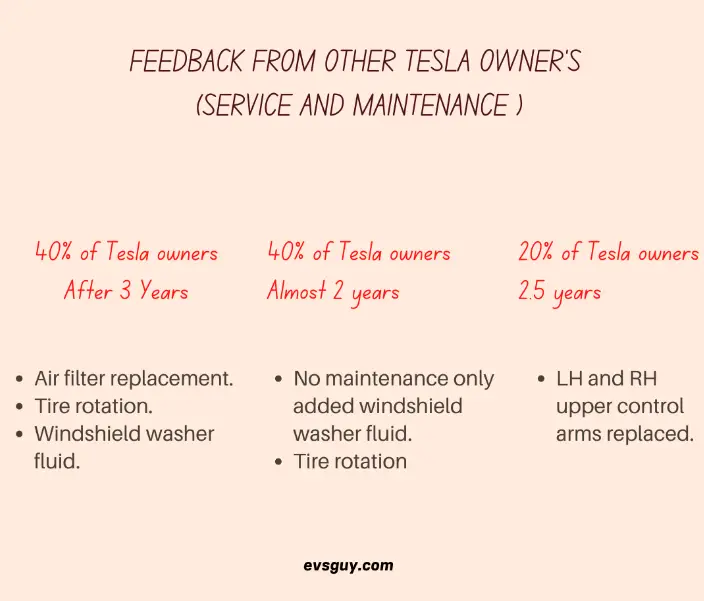 Common service and maintenance
Tire maintenance
When it comes to tire maintenance, you need to:
Replace the tires when they wear out.
Tires need balancing. 
Most Tesla owners have spent a maximum of $50 on tire rotation.
$50 – This is mostly when you have someone come to your house to do it. 
$30 – Most tire shops charge around this amount.
You may also like:
Is Tesla Ceramic Coating Worth It? (Read This Before Applying It).
Is It Worth Wrapping A Tesla? (Pros and Cons).
Braking System
Tesla owners who live in regions where they salt the roads during winter are normally advised to do annual cleaning of their braking system or after 12,500 miles. 
Brake fluid health
It needs to be checked every 2 years and replaced if necessary. This is according to the Tesla maintenance manual.
A/C desiccant bag
It should be replaced every 6 years.
Cabin air filter
It should be replaced every 2 years.
For more information and updates, check the Official Tesla website.
BONUS TIPS
Tesla Monthly Checks 
Check if the air conditioning is working properly.
Check the windshield washer fluid level. Always top up if necessary.