Last Updated on May 30, 2023 by Rose Morah
Today there are many Tesla home charging options.
Some of the popular and most recommended options for charging your Tesla at home include:
The Tesla mobile charger
Tesla Wall Connector
ChargePoint Home Flex
Juicebox
Related:
Reasons Why Your Tesla Is Not Charging At Home (With Solutions).
Cheap Ways To Charge Your Tesla & Other EVs.
What to consider before buying a Tesla home charger
The following are some of the most important things to consider or rather the questions to ask yourself before buying a Tesla home charger.
1. Is the cost worth it?
When it comes to the cost of the charger:
The Tesla mobile connector is the cheapest option, especially now that it is no longer included when ordering a Tesla and you have to buy it separately.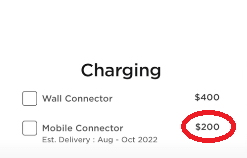 A mobile connector is a great option for Tesla owners who are not so concerned about fast home charging speeds.
However, although the mobile charger may charge slower than the other home charging options, you can still be able to charge overnight and wake up to a full charge.
For example, before buying a hardwired charger (charge box), I used the Tesla mobile charger at 24A to charge my Tesla overnight. I would easily recoup over 180 miles overnight.
I recommend reading our previous article on Tesla wall connector vs mobile connector.
Depending on where you live, ChargePoint and Juicebox could also cost you less if you can get EV rebate programs that will reduce the cost of the home charger.
For instance, I can get an on-bill credit of up to $1500 credit through my utility company if I install either ChargePoint or Juicebox.
In some areas, I have seen the electricity company offering a $500 rebate for ChargePoint installation.
Another example is if you are with PSE&G you can apply to get into their EV rebate program and also get a refund of installation cost. Therefore, it depends on your location.
That also means that in locations that offer very small rebates it might not be worth installing the home charger.
I recommend checking if you can get any state or local electrical utility incentives for EV home chargers.
We have provided detailed information about rebate programs in the following articles:
What if you want to get cheaper electricity costs?
Some utility companies can help reduce your electricity costs through their off-peak credit when you're charging during off-peak periods.
For example, PSE&G's is approximately $0.02/kWh during off-peak.
However, you can only qualify for this offer if you have a Level 2 smart charger from their approved PSE&G list. As for now, they only have Chargepoint and Juicebox (EnelX) on the approved list.
For these reasons, I would recommend getting either the Tesla Wall Connector or ChargePoint.
2. Are you planning to own more than one Tesla?
If you plan to own more than one Tesla in the future, then the wall connector can be a good home charging option mainly because of its power-sharing abilities.
This is a unique feature that most EV home chargers do not have.
3. Are you looking for the fastest EV home charger?
The wall connector and ChargePoint offer fast charging. ChargePoint charges faster than most of its competitors.
However, when it comes to fast charging your Tesla at home, do you really think that you will actually need high-speed charging?
From experience and that of most Tesla owners, 90% of the time, you will not really need high-speed home charging. 
In most cases, high-speed charging will be useful:
If you wake up the following day only to realize that you forgot to plug in your car.
High-speed charging will be very useful, especially if you have very few hours remaining before you leave.
This may be common to new EV owners. But with time, you will rarely forget because it will now be part of your routine.
Depending on your driving routine
If you are a long-distance daily commuter and have unusual schedules, it will also make sense to get a high-speed home charger.
If you have shorter off-peak periods
For instance, let's say off-peak starts at 9p.m and ends at 7 a.m. But according to your schedules, you arrive late at night (later than 9 p.m.) and want to take advantage of the lower prices during off-peak charging. High charging speeds will make more sense in such a situation.
4. Does the size of the charging cable matter to you?
A longer cord can be of great benefit, of course depending on your needs.
Therefore, it is important to first figure out where the EV home charger will be installed/where you will be charging the Tesla. This will help you know what cord length will be more convenient for you.
For example:
JuiceBox 40 Smart Electric Vehicle (40 amp) comes with a 25-Foot cable.
Wall Connector comes with a 24-Foot cable.
ChargePoint Home Flex comes with a 23-foot cable.
NOTE: 
We also have an article that highlights the main features and comparisons between different EV home chargers (EVSE) currently in the market. 
It will be very worth looking at so that you are not just limited to ChargePoint, Wall Connector, and JuiceBox!
5. Are you more concerned about the EV home charger features?
Some people tend to be more concerned about the features that come with the smart charger.
However, Tesla already offers most of the features offered by other home chargers. Hence you will not need them most of the time.
For example:
ChargePoint and other EV smart chargers can be set up to charge during certain hours.
However, the same feature comes with your Tesla. You can set your car to charge during certain hours.
ChargePoint and other EV smart chargers will track your charging as well as include estimated charging costs.
Again, this feature can also be found on the Tesla app.