Last Updated on May 30, 2023 by Rose Morah
The 2023 Cadillac Lyriq is an all-electric vehicle that's a real head-turner, especially at night.
Seeing the Cadillac Lyriq at night is quite an experience, it's a unique convergence of art and technology.
This is because of its cool big vertical lighting elements.
Cadillac Lyriq has managed to generate lots of buzzes and excitement, with some reports from Teslarati that 2023  Cadillac Lyriq sold out within 4 hours. Others report that it sold out in less than 10 minutes of going live. 
N/b: You can still pre-order the 2023 Cadillac Lyriq.
What makes Cadillac Lyriq unique and different from other EVs in the market?
It comes with a new Ultium battery, unlike most other EVs which have a Lithium battery.
It has gone the extra mile with its Noise cancellation technology that effectively eliminates any cabin noise, including the annoying road noise that most EV owners complain about.
Cadillac Supercruise- hands-free driving.
It will be a cheaper luxury electric vehicle that undercuts all its top competitors.
See also:
Ford Mustang Mach-E Pros and Cons.
Pros and Cons of Volkswagen ID.4 Pro.
Hyundai Kona Electric Pros and Cons (According to Owners).
2023 Cadillac Lyriq (Rear-Wheel Drive) Top Features
Price: Starts from $62,990
Range: 312 miles EPA-est. range with a full charge*
It comes with a 100kWh battery pack.
19.2 kW AC Charging which enables up to 52 mi/hr.
Estimated 340 horsepower and 325 lb.-ft. of torque.
Rear Camera Mirror with washer.
Hands-free power liftgate.
2023 Cadillac Lyriq (All-Wheel Drive) Top Features
Price: Starts from $64,990
Range: "Pending"
Powered by 2 motors.
11.5 kW AC Charging which enables up to 37 mi/hr.
Cadillac-estimated 500 horsepower.
Torque values "pending".
Towing capacity of up to 3,500 lbs.
Power liftgate.
Cadillac Lyriq Charging Speed 
Charging at a 19.2 kW Charger, you get a range of up to 52 miles per hour for the RWD.
Charging at an 11.5 kW Charger, you get a range of up to 37 miles per hour for the RWD and AWD.
Charging at a 7.7 kW Charger, you get a range of up to 19 miles per hour for the AWD and up to 21 miles of range per hour for the AWD Cadillac Lyriq.
Charging at a DC Fast charger, Cadillac Lyriq can add up to 76 miles of range in about 10 minutes. Its maximum charging speed is 190 kW.
You may also like Types of Electric Vehicles (EVs) and Which One You Should Buy.
2023 Cadillac Lyriq interior 
The Cadillac Lyriq has a modern-looking interior with a touch of ambient lighting and a full glass roof.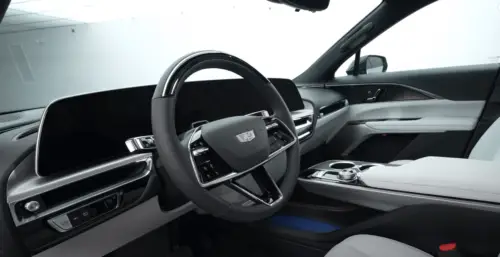 It comes with an impressive 33" standard curved screen.
It has plenty of headroom.
The backseats have plenty of legroom.
Its cargo space is 28.0 cubic feet.
It comes with headrest speakers.
AKG Studio 19-speaker audio system
See also: Volkswagen ID.4 Tips and Tricks (VW ID.4 Hidden Features).
2023 Cadillac Lyriq smart features
The Cadillac Lyriq's smart features include;
Automatic Emergency Braking.
Front Pedestrian Braking.
Following Distance Indicator
Blind Zone Steering Assist
2023 Cadillac Lyriq exterior 
For the exterior paint, you get to choose between silver or black. However, more paint options will soon be available.
It comes with a LED Slimline headlamps lighting signature and LED taillamps which display an amazing artful design.

It comes with a standard 20" split 6-spoke alloy wheels. 22″ Dynamic Split-Spoke Reverse Rim alloy wheels are also available.
How to Order the 2023 Cadillac Lyriq
Go to Cadillac Lyriq's official website to pre-order.
Choose a Cadillac Lyriq and select your dealer.
To pre-order, you will have to pay a pre-order fee of $100, which is refundable in case you decide to cancel your order.
You will only need to contact the dealer that you selected to request a refund.
The pre-order confirmation will be sent to your email address. This may take up to 24 hours.
The selected dealer will be notified once you complete the pre-order.
The dealer will then contact you for configurations and final pricing.
At this point, you will configure your Lyriq based on how you want your interior, and exterior to look. This also includes your preferred wheel size.
The dealer will then submit your final order for production.
NOTE: Once the order has been submitted and accepted for production, you cannot change or cancel the order.
Wait and contact the dealer for updates about the status of the vehicle. 
Cadillac will also send you an email when it gets closer to the delivery date.