Last Updated on May 30, 2023 by Rose Morah
If you are looking for Tesla camping sites that will have a reliable place to charge, this article highlights the best places to find Tesla camping locations when camping with your Tesla.
You will be surprised to find very cheap but great places to camp with your Tesla.
But before that, here are two important tips before you go camping:
Make sure you have the right adapter for your mobile connector to charge your Tesla while at the camping sites.
This is because to connect a 120V/30 or a 240V/50 amp outlet you will need to have an adapter.
Personally, I use this Tesla adapter from Amazon when camping.
Before you go camping at a camping site make sure you have read their camping rules and regulations. 
For instance, some will not allow sleeping in the car, others will require you to have fully self-contained units (sewage tanks).
If there are no indicated rules on the website, then be sure to call in advance to avoid unwanted surprises.
Related: Best Electric Cars For Camping (Best EVs To Sleep In).
How to find the best Tesla camping locations
Personally, I use Roadtrippers to help find me the best Tesla camping sites. I would definitely recommend it to other Tesla owners.
What I like most about Roadtrippers is the fact that I can filter the camping sites by those that perfectly fit my needs.
For instance, I am able to filter the camping sites based on:
Ratings and reviews
Distance
Popularity
Electric hookups
Price
Wifi
Sites that have photos
Discounts
Services, such as restaurants and snack bars
Recreation
On Roadtrippers, you can easily find camping sites that have electric hookups that are 50+ amp. See the image below.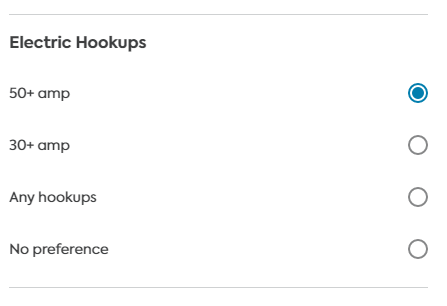 See also:
7 Best Charging Apps For Nissan Leaf.
How Much it Cost to Charge an EV in California.
2. Use RV Parky
RV Parky is another great alternative that lets you filter the campsites by those that fit your needs. 
Just like the Roadtrippers, RV Parky will give you the option to filter the camping sites with 50 amp, as seen in the below image.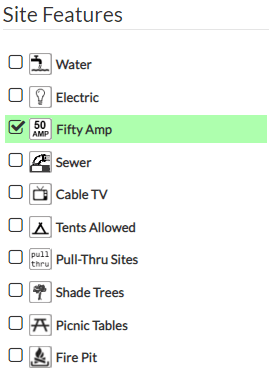 You can also filter your results to give you camping sites with the following site features:
Electricity.
Water.
Pull-Thru sites.
Shade trees.
Picnic tables.
Cable TV.
Pet area.
Showers.
Restrooms.
Restaurants.
Fishing.
Pool.
In addition to that, you can choose the type of places you would like to camp such as RV Parks, gas stations, and stores that have overnight parking and allow sleeping in the car.
Examples of the stores you will find available include: Walmart, Camping World, Cabela's, and Cracker Barrel.
Much like the Roadtrippers, RV Parky allows you to filter your results based on ratings, distance, price, miles, and available amenities. See the image below.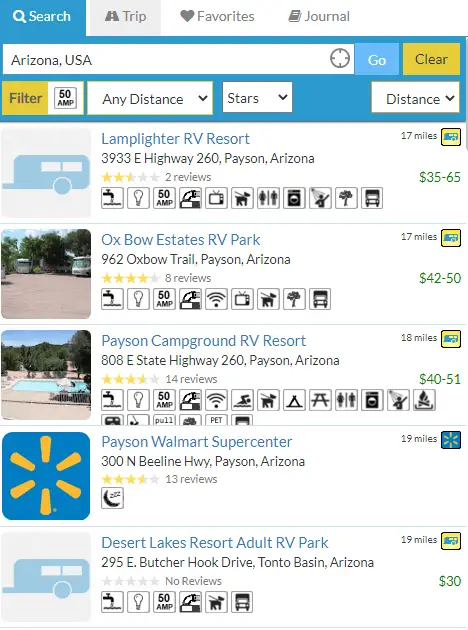 3. Stop at campgrounds that are closer to the superchargers
This would be great if you are camping in your Tesla at a campground that does not allow EV charging/ does not have electricity hookups.
When planning your trip ensure there is a supercharger that is close by. This way you can fully charge, then drive to the campground.
Additionally, when camping in my Tesla, I noticed that camp mode does not drain the battery fast. So, it's possible to camp at a campsite that does not have electricity hookups.
You may also like:
Types of EV Charging and EV Plugs.
Tesla Wall Connector VS Mobile Connector.
10 Cheapest EV Home Chargers (Under $500).
Final Word
Camping in your Tesla is one of the best experiences that you can ever have with your Tesla. Try it and you will love it.