Last Updated on March 10, 2023 by Rose Morah
Theft of Tesla wheels is quite common in some locations, especially in Europe and some states in the US.
Imagine waking up to your Tesla on coke crates! Well, if you are not familiar with any such incidents, the image below will give you an idea.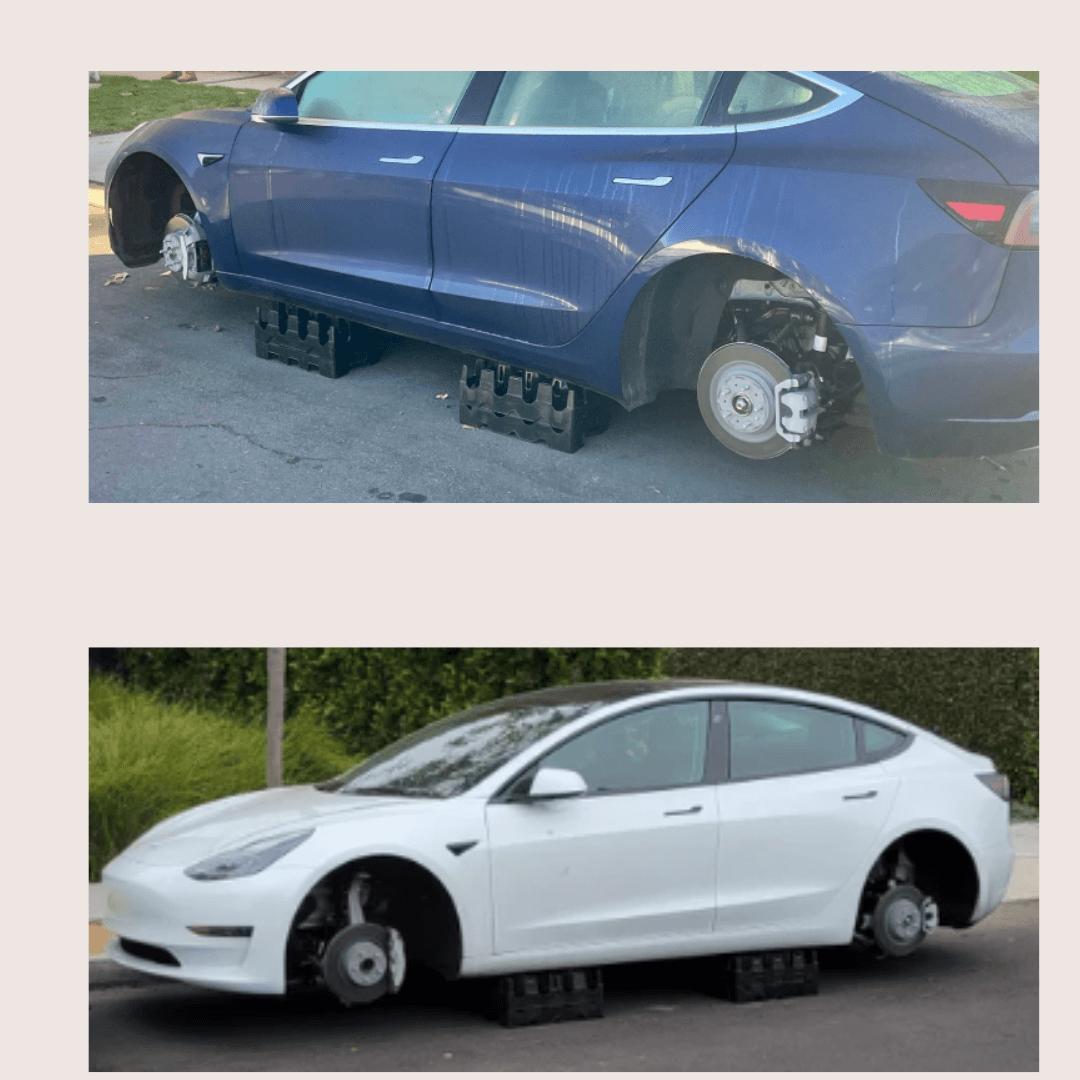 Most people recommend installing wheel locks as a security measure, but do they really help?
Well, this article will help you figure out whether or not to buy wheel locks for your Tesla.
We are also going to share some important tips and what to do if you find your Tesla wheels stolen.
See also:
Is It Worth Wrapping A Tesla? (Pros and Cons).
Recommended Tint For Tesla (Read This Before You Tint Your EV).
Are Tesla wheel locks worth it?
There are many factors that determine whether wheel locks make sense or not.
Why Tesla wheel locks are not worth it
As much as wheel locks are necessary, they will not prevent a thief from stealing the wheels, especially if they are so determined or aiming for the wheels.
That's because they don't need to have the key to remove the wheel locks. They can easily remove them using a hammer and good-sized sockets or with a removal tool.
This makes them not worth it.
Why Tesla wheel locks are worth it
Wheel locks are worth it if you are looking for something that will act as a deterrent to thieves looking to steal your wheels.
This is because they slow them down, especially if they don't have the right tools to remove the wheel locks.
In most cases, the wheel locks will discourage thieves from stealing the wheels.
See also:
4 Ways To Reboot Your Tesla To Help Fix Issues.
How To Check Tesla Battery Health/Battery Degradation.
What should you do if you find your Tesla wheels stolen?
Inspect the battery to make sure the thieves did not damage it when jacking it up.
I'd recommend contacting Tesla and scheduling an inspection. This will help address any issues that may be related to battery damage in the future.
See also:
Tesla Battery Replacement Cost.
How Long Does a Tesla Battery Last?
If the Sentry Mode was on, be sure to check it out.
Some thieves will wear hoodies and look down to hide their faces. However, some don't realize that they are being recorded. You might hence capture something helpful.
Lastly, apart from getting wheel locks, I recommend adopting parking strategies that will discourage thieves from stealing your wheels and other preventive techniques.
Good luck!